One September afternoon, 15 year old Tiffany Tull joined two of her schoo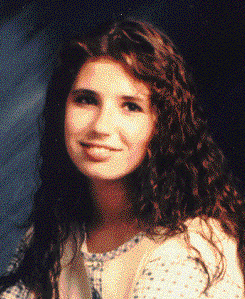 l mates at Little Axe, Oklahoma, on a countryside cruise. Little Axe is a small rural town near Lake Thunderbird, about 40 miles southwest of OKC. Her two friends, Thomas Loveless and Michael Foldenauer, were a little older than her, maybe seventeen. Tiffany's mom had just called. She was running errands in town and would be home within an hour. Too late. In that time the boys pulled into Tiffany's drive way.
They had been cruisin' for awhile before Tiffany joined them; two other girls had just escaped by locking themselves in a convenience store bathroom. Tiffany, too, had an opportunity to escape at a convenience store later that evening. She pleaded with the cashier to call 911, "They have a gun. I'm afraid." she told him. Tough luck. The cashier was Vietnamese - as intimidated by the language as she was by the gun. Instead, he later called his sister to call 911, again too late. The trio left the store and landed in a vacant two story house near Oklahoma City. There the boys took turns with Tiffany upstairs. When Michael went up, he found her crying, naked from the waist down. He testified later that he merely talked with her for the hour that was to be his turn. When his turn was over, Thomas returned and shot her in the chest and neck with a shot gun and several times at point blank with a .22 caliber pistol, then threw her from the second story window onto the ground below.
The medical examiner testified that she was clinically alive for some time after that. Life will leave a fifteen year old only reluctantly. She lay for hours that final night - to take in the warmth of the Oklahoma autumn, the smells, the sounds, the pain, the horror, the shock of powerful passion.
Psychoanalysists have long cashed in on the power of sex, called "libido," and linking its suppression to all forms of neurosis and strange behaviors. And, to an extent, they are quite right, for the libido is power - it is the creative power of universe which cannot be suppressed, only diverted. But the theory is only half true: the libido is not solely sexual. It is the combination of two component and complementary forces - attraction and repulsion; positive and negative; yin and yang, etc. These together comprise the powers of electromagnetics and all subsequent manifestations of the unive

rse. Small wonder our consciousness is not immune to them.
Basically, we are attracted to pleasure; we do not want pain. But in our limited consciousness, we regard various objects as eliciting pleasure and pain based on our own habits and extensive conditioning. These are our predilictions and prejudices. They are like spells whereby we are unable to see the object clearly, but only as depicted by this spell. We are deceived. Others may make use of spells to seduce us, to be captured in a web of our own desire. More often we deceive ourself - becoming attracted to and exerting great effort at obtaining an object which ultimately may bring us greater suffering; or, in our narrow and immediate self-interest, we neglect or reject those things which would ultimately provide our greatest happiness.
In our tendency to isolate and dissect things we take these forces to be independent of one another, and to exist independently in subject or object. If I, for example, find you attractive, I may assume that attraction to exist somewhere in you. The power that is inherent in attraction - as in its primal force - is identified with you. And as a result, I may try to possess you as a way of reaping that power. And if I cannot possess you, then perhaps I must annihilate you as a way of overpowering it. In their extreme, attraction and repulsion lose distinction. Then such things as rape-murder, battered wives, and murder-suicide are possible.
Attraction and repulsion are relationships: they imply a minimum of two objects. They are not inherent to any one object, but exist interdependently. If they existed solely in the object, why aren't all things attracted to that object? If your dream man or woman goes walking about in a forest, all the little critters will scatter and hide as if death stalks them. Conversely, if attraction or repulsion exist solely in the subject, then why are you not attracted to all things, or averse to all things? These powers do not derive from either subject nor object in isolation.
Neither are they independent entities, like sin or demons: lust and anger; ira and cupiditas of Christian theology or Gyalpo and Senmo of Tibetan depictions. Sometimes when we are consumed by lust or anger, we feel these forces to be something real, formidable and tenacious: as an enemy with whom we must do battle. But in their nature they are only the creative energy of the universe: it is our own mind that transforms them into lust and anger, and attributes them to objects. They are fundamental forces that course through the universe, flow through a consciousness and are expressed as either attraction or repulsion: like or dislike. They are not stable, not static, but forever pulsing. Thus, what you dislike today, may become preferable tomorrow. But in their extreme forms, they become isolated and static: Attraction becomes attachment and repulsion becomes fear.
Again, these are complementary. If I am attached to something, I become afraid of losing it; or if I am afraid of losing something, I become more attached. I may try to hold on to it more tightly, perhaps constraining it, or putting it in a fence, securing it with locks and alarms and various taboos. This we may try to do with persons, or with things. Even with our planet. We divy it up, put a fence around that part of our planet that is "mine." We ward off intruders with guns, maybe poison the insects and critters that trespass; we block the wind and hold back the soil. This is our "domain" - local power - power over fear. It is fear that we try to hold back, ward away, and hide. Fear of the unknown, of tomorrow. In vain we try to hold on to what we have today, for ultimately, how much land does one person need? About 4 feet by 7 feet by 6 feet deep into which others can throw your mortal remains. Or you can choose to be cremated: your ashes blown by the winds upon the hillsides to be washed by rain to the oceans where it feeds the plankton which respire to all breathing things. This is another way to die; it is also another way to live. But to most of us, this is our greatest fear - of losing oneself; the fear of annhiliation.
Strangely, this is also our greatest attraction: the orgasmic bliss of sexual union. In this there is the momentary release from one's own isolation, a melting of boundaries and barriers, a merging with a being quite outside of oneself. For some creatures - notably insects - the moment of sexual union is also its death: to drown in the water where one's eggs are laid, or to be eaten by one's own lover. But even where we survive such union, we are temporarily released - annihilated - from our own tired and customary habits and ideas. Therein lies fulfillment, joy, satisfaction and happiness. This is the moment of love.
The moment of sex we call "making love," indicating it is a composition of factors leading to this orgasmic release. Yet it is only temporary. We might become so attached to this feeling that we try to repeat the experience, soliciting it in various ways trying to duplicate that initial high. It might become an addiction in itself. We might exhibit various accoutrements, imagined scenarios, roles and postures. We may have a ravenous appetite for new experiences and partners, all indicating the very elusive nature of our goal.
Or we may resign ourself to this ephemeral nature of love, and settle into a routine but stable relationship in which we may "mature as individuals." Those experiences of love - of merging, melting, expanding - we felt earlier are forgotten or dismissed: e.g., "puppy love"; or "falling in love," as a rite of passage for two people in developing a more mature form of mutual trust and dependence. There is a residual bond between two or more people, but one's own isolation gradually returns, i.e., the honeymoon is over.
Simply by viewing the way things work, it is a wonder we do not love as our normal experience and feel isolated and alone as anomoly. The water which comprises the bulk of our physical being is the same water that comprised the primordial soup. Passing from sea to cloud to rain to river to this being that being, it continues to pass through us and on again. The air that I breathe now was a moment ago in your blood. Now I release again to whomever needs it. Our emotions are our common chemistry; our thoughts form from the language and culture we share. How is it then that we judge love to be elusive and illusive, and not our isolation? This is because of attachment and fear.
As love is to attachment, so wisdom is to fear. Once we are burnt by an open flame, it is wisdom that keeps one's hands away. But this is not the same as fear. Once we recognize that fire burns, we do not need to burn ourself, rather we can use it to produce work - e.g., internal combustion engines or a variety of industrial processes. Where love embraces and finds similarity in things; wisdom examines and makes distinctions. Where love is the ground, wisdom is the path. Wisdom is the pivotal force of freedom.
Love and Wisdom are not opposites, but like attachment and fear, they are two sides of the same coin. These two coins can be contrasted along the dimension of open or closed. Love and wisdom are open, free, natural; whereas attachment and fear are closed, controlled and contrived.
| | | |
| --- | --- | --- |
| | Positive | Negative |
| Open | Love | Wisdom |
| Closed | Attachment | Fear |
Wisdom seeks to avoid suffering, and transcendent wisdom seeks to avoid the cause of that suffering, which must also include attachment and fear. Wisdom will tell you that if you love, it is possible your heart will be broken; if you are generous, someone may take advantage of you. And even so, it is better than attachment and fear. Living inside attachment and fear is like cornering yourself off in a small chamber of a vast mansion. From inside this little room you might imagine and project all kinds of things outside, and these become your chamber walls. Nonetheless, inside or outside, it is all your mansion: all your home. Overcoming attachment and fear feels a lot like coming home.
A similar distinction could be made along the dimension of time: love and wisdom are grounded in the present moment; attachment is grounded in the past; and fear is grounded in the future. A person has no power over events or things of the past, although they hold power over him as distraction, hostility or regret. Fear of anticipated or unknown events in the future cause tension, shutting down or covering up - the mind is often just set on stun. There is no power over the past or future. All power is in the present, this moment. The moment is like a street light that protects the mind from the darkness of ignorance: from the thugs of fear and theives of attachment. The moment is the ocean where all streams converge; the space where all phenomena arise. The power of the present moment lies in "being present" or having a presence. Anything that takes you out of the present is taking away your power. Therefore, a method for developing love and wisdom - and personal power - is to remain present in the immediacy of each moment.
Related to attachment and fear is hope. Hope, like fear, is grounded in the future, but it is a form of attachment. We can get too attached to even love and wisdom in hope for some imagined future happening. Wisdom tells us that sometimes things are open, sometimes things are closed. When the diaphragm opens, air fills the lungs like a bellows. When it closes, air is pushed out along with body toxins. To hold it open, or to hold it closed, is risky. The mind, like the breath, must also be free and natural not controlled or contrived. We should not be attached to being open, nor afraid of being closed. That said, given that our consciousness likes to latch on to things and get stuck, we sometimes require a gentle nudge to return it to the present. This nudge is not a rejection or suppression. It is opening again to the moment, to its manifold options. And it should be gentle - don't get upset when consciousness is gone again, more hope and fear. Patience and generosity are the attributes of love and wisdom. So also is diligence. Gradually the mind begins to open easier and more fully.
"So what does all this have to do with sex?" you may be asking, "When will we get to the good stuff?" Sorry. You may be at the wrong web site. What I want to do is make clear that sex is power and, like atomic power, it can be either fusion or fission: you can merge, melt, brighten, enlighten; or divide, pollute and blow up the place. In its lowest form sex is violence waged against another human being. In its highest, it is a spiritual practice. In the highest yogas, love and wisdom are again transformed - exchanged for another coin - bliss and emptiness (- beyond our scope here). Sex deserves respect. It should be approached with love and wisdom.
Modern society links maturity to conquest and violence. A boy passes into manhood by stealing the girlhood from the woman, or by beating the boyhood from other boys. This is taught by the entertainment industry, of course, but primarily by parents and schools. We catalog human history by invasion and dominance, as if this is the march of human civilization. In truth humanity advanced in civilization considerably in spite of such machismo. While war might form an exchange of cultures and merchandise prior to the rise of markets, in the usual case it destroyed civilization, subjugated people, looted merchants, pillaged communities, raped women, demolished libraries and temples. Why treat the warrior as a hero, when in fact he is more villain. If someone were to do as he did in your neighborhood, you'd call the police! Yet in school we teach kids this is how humanity matures, by soldiers: not scientists, artists, philosophers, and mystics. In terms of advancing civilization, the mystics far exceeded the warrior or merchant. Even more so did the lowly housewife (see below). Is it a wonder that kids return to school in camouflage and with semi-automatic rifles? They return to roost; reap what we sow. History could be taught as reliably by changing words like "conquer" to "destroy" and "rule" to "oppress" as the book is printed. It catalogs the same historic event, but says something different. This is so obvious it shouldn't need mention.
In primitive cultures, a boy passes into adulthood by a rite of passage called a "vision quest" or something like it. It is not an effort to conquer or destroy anything or anybody else. You don't need guns or a lot of equipment - in fact, less is definitely more. It is a training in the mastery over attachment and fear. By conquering his own narrow and immature views, a boy becomes an adult in full standing in the community. Given the power of passions in adolescents - and the availability of guns - it may be prudent to be more primitive in this respect.
A boy dropped off on a mountain side, alone with a week's provisions - deprived of entertainment, news, sports, and friends as framed-in reference - may notice the expansive night sky, the way the earth orbits the sun, how clouds form from mountain glaciers. He may notice a wonderous silence - open, free and natural - and how small his ideas about himself had been. He may begin to question his own mortality and purpose. And in this sense of awe and doubt there is an opening within himself. If he can stay with it, fully grounded in the moment, and not run away - for all kinds of fear will try to fill the hollow - nor hide in cleverness, he will come down the mountain a lot wiser than when he went up. Traditionally, this is not a ritual the girl would take - I guess childbearing was enough. But we may consider our time, if not modern or post-modern, at least neo-primitive.
A distinguishing feature of neo-primitive society is demographic: people live longer, take longer to mature, and have fewer children. On the one hand this bodes well. People can take their time and really mature such qualities of love and wisdom before committing the horrible mistakes in sex and marriage we sometimes observe. Moreover, there is more time after the children have grown, giving more possibilities to an even greater maturity.
On the other hand, fewer children mean a dissolution of the husband/wife familial bond. Single mothers, homosexual and bisexual relationships have become prominant in recent years. The role of women is changing. Culturally and historically, the woman has been subordinate to the man by her role in child bearing and rearing. Reproduction vs production; shadow-work, unpaid or underpaid, as housemaker or secretary - the woman has always held a vital but undervalued role in human history. Freed from the chore of child bearing, she now wants equal recognition and equal duties in the trenches and in the board rooms. That's only fair.
But something subtle has been lost. Subtle, because for millennia it has been in the shadow of the male conquests. The woman - especially the matriarchal household - has long been the civilizing force of society. In the Westward Ho! of the American frontier, it was the woman who established churches and schoolhouses in the wake of the men's brothels and saloons. This on the basis of her need for stability and security - and civility - in raising kids. The moralists recognize this. They want a return to family values. To this end, they would end public support of single mothers; scorn homosexuality; and cheer large families. But this is the logic of attachment and fear.
We are facing an extraordinary evolution in human society. Only love and wisdom can face this change constructively. There is no one working in the shadows to make it good - except for a few mystics, and one can see in the papers it is beginning to overwhelm them. Make no mistake: Love and wisdom are acts of courage. Whether standing in the protest line or check-out line at your local grocery store, if you are standing there with love and wisdom, in that moment you are a hero. And you are standing with the truly great heros of human civilization: from Jesus and Socrates, Abraham Lincoln and Martin Luther King, Jr, Mahatma Gandhi, Anwar Sadat and Yitzhak Rabin. These men gave their lives to civilization. And civilization still vibrates with their lives.
Now, relax. You may not have to die for love and wisdom; but you should be prepared to give your life for them. Mother Theresa gave her life for love and wisdom; also, Buckminster Fuller. When Bucky Fuller was in his 20's he pondered suicide. Then in a stroke of genius, he decided that rather than taking his life he would give it to humanity. And for the next 50 or so years, he devoted his life to designing tools humanity would need in the future. They were not exactly marketable; probably none went into mass production. That was not his intention. Sometime in the future, he thought, humanity would need these tools: He was solely motivated for the well being of others.
Heroes come in all shapes and sizes: in how you raise your kids; how you drive your car; conduct a business. It is a heroic gesture to speak words of understanding and encouragement when the room is filled with slander and sarcasm. It is heroic to let a column of cars behind you slow for a merging one in front. Forget your fifteen minutes of fame; just be a hero for one moment. Do it for the planet. Do it for your children. Do it for Tiffany Tull.